Like many of you, I remember the days when a coffee table's only purpose was a resting place for drinks, books and television remotes. They were more about function than design and rather boring.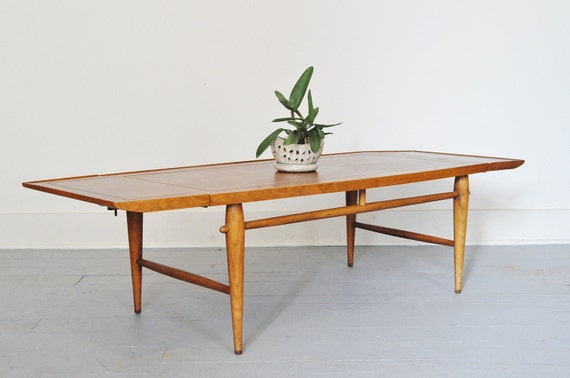 Source:
https://www.etsy.com/listing/153098932/mid-century-drop-leaf-lane-coffee-table?ref=related-4
There was a period of time that they got big........
Source:
http://www.bhg.com/rooms/living-room/family/living-room-decorating-ideas/?socsrc=bhgpin071713roundcoffeetable&page=13&crlt.pid=camp.05v5yewkgToB
and bigger.............................................
Source: Pinterest.com
and even BIGGER!!!
Source:
http://www.pinterest.com/pin/35677022017931979/
Then there was a period of time we decided they took up too much space and many homes did without them.
Now they are a fashion statement to any room. We don't just place a coffee table in front of the sofa anymore. Instead, we use them to anchor our conversational area together. What should you consider in choosing the right coffee table for your space?
First, let's discuss shape. There are various shapes of coffee tables now. For conversation areas that are wide, a rectangular coffee table may be the best fit. Smaller spaces find circular or square tables to work better.
Second, you should think about size. You want to make sure that there is at least 2 feet of walking space around your coffee table. This helps give you a beginning guideline as to the size of table you need. Some conversation areas may be rather large and have seating for 10 or more people, while others are small and only seat 3 people.
Last, we will look at style. That is what it is all about now! You will find coffee tables that are fancy, rustic, modern, industrial and from various world influences. The style is what makes them unique.
When choosing my coffee table, I took all of these factors in consideration. I first decided on the shape I needed. For my space, I decided that I wanted a round or square coffee table. Then I measured my space and that I needed no more than a 30" table. Lastly, I took a great deal of time deciding what style I wanted and what complimented the existing furniture. I had seen this one from Restoration Hardware and fallen in love it.
Source:
http://www.pinterest.com/pin/235735361718954247/
Just so you know, this one cost around $2K, which is a bit much. Then, I began seeing another one almost identical to it on the Internet. I was hesitant to buy it because I hadn't actually seen it. One day, I went into one of my favorite stores, Greystone Antiques and saw it. It was priced less than 1/2 of the Restoration Hardware one and it was every bit as beautiful. I finally decided that it was the look and style I wanted for my living room.
I love the architectural look of the ionic column. The hand carving is beautiful. It has chippie paint and a pine stained top. It's both elegant yet rustic which is the style I want in my home. Can you tell the difference in it and the Restoration Hardware one?
In case you are interested in purchasing the ionic capital coffee table, I encourage you to visit Greystone Antiques showroom in Birmingham, Alabama. The last time I checked, they still had one. Let them know that I sent you.
Until next time, remember: Great Design Takes Time!
Lisa